Photoshop brushes
Did you know you can import Adobe® Photoshop® brushes into Pixelmator and use them just like the pre-installed brushes?
Simply download a brush package from any of numerous websites (myPhotoshopBrushes.com, QBrushes, BrushKing, etc), then unzip it, if necessary, to get the .abr file.
Open the Brushes pallet, View > Show Brushes, or by double-clicking any of the brush tools in the Pixelmator toolbox. Click the little Gear icon, ⚙, in the bottom right corner.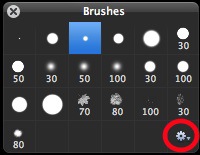 Now select Import Brushes … at the bottom of the menu.
Locate the .abr file in the Open dialog and click Open.
The new brush package should immediately appear in the Brushes pallet, ready to use.
It's as simple as that!
- Tom Boito